FS6 Foot Compression Sleeves - Soft Support For Pain, Swelling & Fatigue Relief
Regular price

Sale price

$39.99
Product Details

The FS6 performance foot sleeve is hands down the #1 soft support for pain relief from plantar fasciitis, foot & arch pain, foot fatigue and foot swelling. This foot sleeve uses compression zone technology to offer medical grade orthopedic support to the plantar fascia and Achilles tendon. True graduated compression improves circulation in the foot & ankle and assist with swelling reduction. All of this, plus being ultra thin and moisture wicking, gives you a super comfortable, thin sleeve meant to be worn under your socks and inside shoes. These sleeves can also serve as an injury prevention tool for athletes and those working on their feet all day.

For the best fit, it is important to use the size chart before ordering.
Benefits & Features

Targeted Conditions:
• Plantar Fasciitis
• Swollen Feet
• Arch/Heel Pain

Performance Features:
• Provides continuous stretch of the Plantar Fascia
• Supports the arch and overall foot structure
• Stabilizes Achilles tendon and ankle
• Creates a better sense of balance
• Medical Grade Compression

Comes with two (2) foot sleeves per package

Frequently Ask Questions

Q: What are OS1st products made of?

 A: OS1st uses top-quality, high-performance, moisture-wicking materials with a silver-ion anti-microbial treatment. Materials include Lycra Spandex, micro-nylon, nano-bamboo charcoal, and Merino Wool treated with silver-ion for moisture-wicking and anti-microbial. The gel grip on the compression bracing sleeves is hypo-allergenic silicon. Please see product descriptions for more information.

 Q: How do I figure out my size?

A: All our products have a corresponding size chart that will help you choose the best size for you. We recommend using each individual size chart for each product. If you are close to the next size in SOCKS, size down and if you are in between sizes for COMPRESSION, size up.

Q: What's different about our compression?  

A: Unlike some compression products, all OS1st products are 100% medical grade compression. We apply our compression with our patented Compression Zone Technology ® which targets specific joints and muscles so you can be active and pain-free.

Q: How do you fight odor? 

A: All OS1st products are treated with silver which is a natural way to fight odor.

Q: Do OS1st socks and braces wick moisture? 

A: Yes, all OS1st products use a high-performance fabric that wicks moisture away from the skin for a dry experience. 

Q: How do I wash my OS1st? 

A: We recommend you hand wash your socks and braces in warm water with non-bleach soap. Always air dry!

Q: What size am I, since someone falls in two different size locations on the chart?

 A: SOCKS - We recommend sizing down in socks if you are close to the next size. COMPRESSION - We recommend sizing up if you are in between sizes for compression.

Q: How long can I wear them? 

A: It all depends on how often you wear your product and what you do in them! A good rule of thumb is to check in at 6 months and make sure the compression is still working as it did when you bought it. We have a 100% satisfaction guarantee, so feel free to reach out to us at any point in the product life cycle.

Q: How much compression is in the product?

A: Our products use Compression Zone Technology® which uses varied levels of compression to target specific areas affecting the injury/pain. See individual product listings for compression range information.
30 days Return Policy

My Foot Guy believes in a 100% satisfaction guarantee, which means we will replace mis-shipments, defective products, and size exchanges for free, no questions asked! If you have questions or you need to replace your product, please email info@myfootguy.com. We are also committed to your complete satisfaction. If you are not satisfied with your purchase at any time, you may return it for a full refund. Please email info@myfootguy.com.. Please see our full refund policy for details.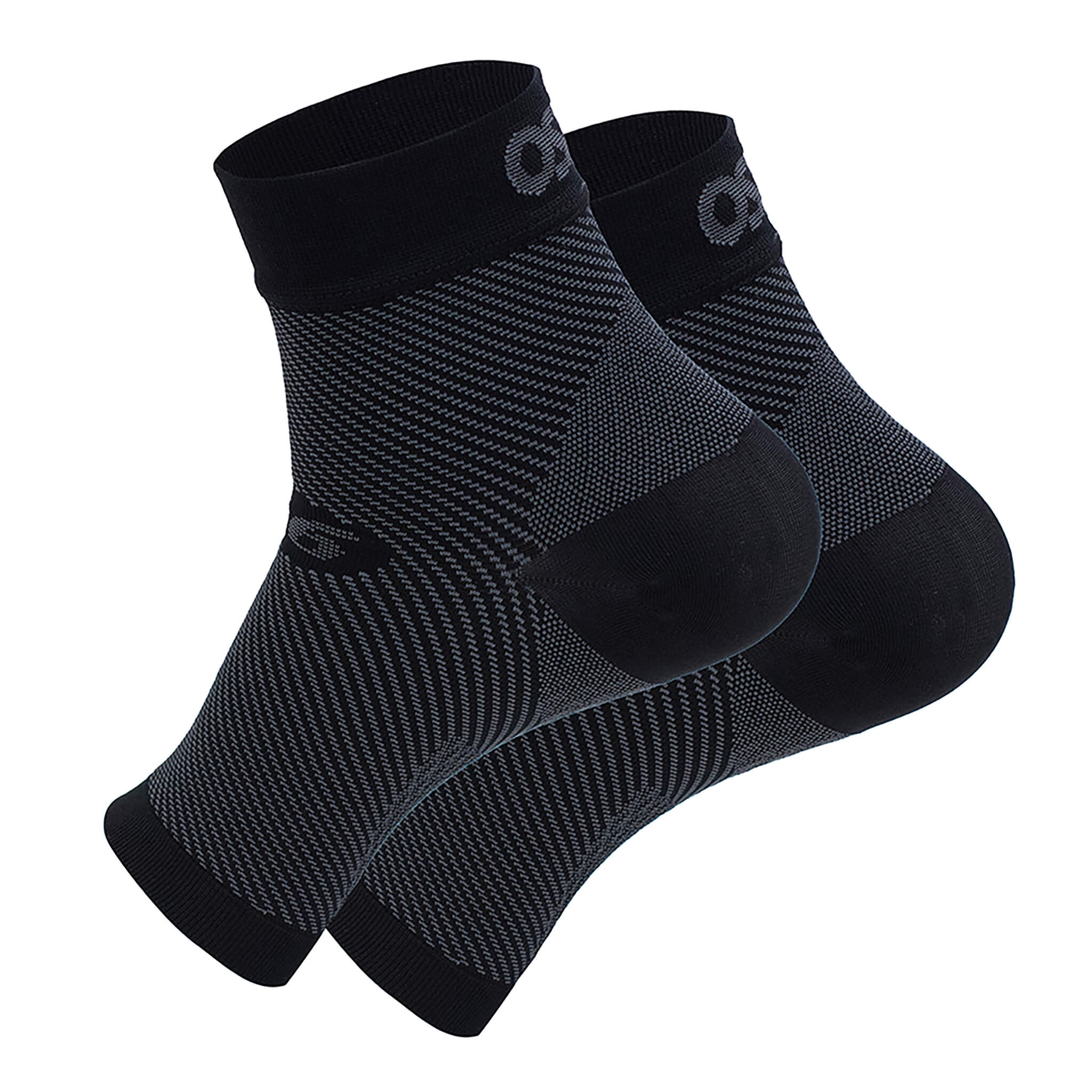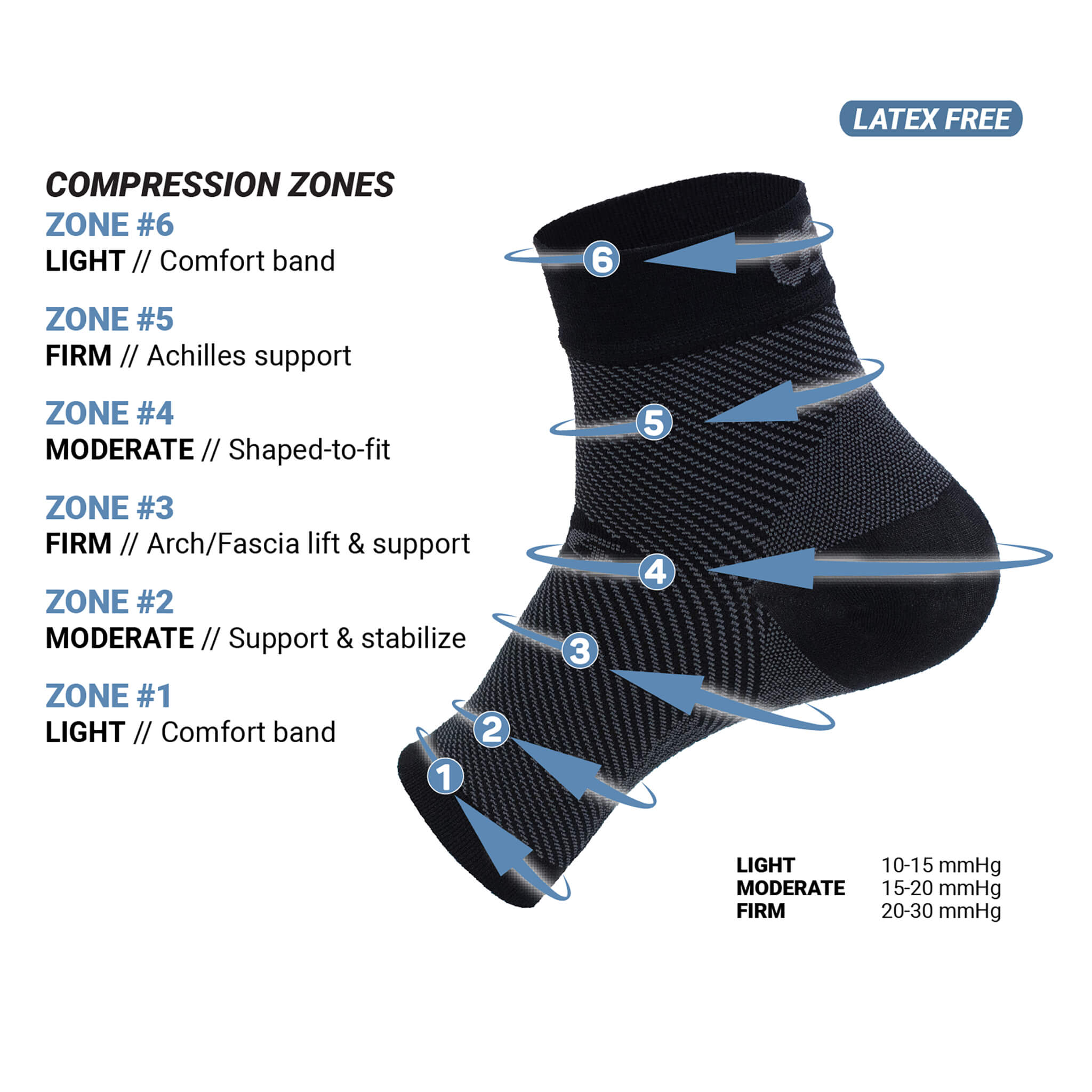 FS6 Foot Compression Sleeves - Soft Support For Pain, Swelling & Fatigue Relief Size Chart
Finally relief
So happy I purchased the FS6 foot sleeve for my plantar fasciitis issue. After wearing for a short time I could feel relief. If you are on the edge about purchasing this product go ahead and take the leap. You will be glad you did.
Foot/Ankle Compression Sleeve
First time wearing I saw considerable relief from swelling due to tendon and other ankle issues. Good fit and very comfortable to wear. I did see some thread fraying around the tops after first wear, hopefully no issue.
Foot sleeves are great!
The foot sleeves are very comfortable and give so much support and relief for plantar fasciitis. They just feel good on my feet. Such a great help!
Thanks so much for the review. Yes, OS1st compression foot sleeves definitely help with plantar fasciitis, achille's tendonitis and general foot pain.
FS6 performance foot sleeve
Amazing! They fit perfect! And help my feet feel great!